Peter Schultze Construction incorporates many of today's must-have features and finishes in their custom homes. From 9 foot ceilings to premium hardware and fixtures, we understand the importance of quality construction.
The following are some of the standard custom home features you will find in a Peter Schultze constructed home (click to expand each feature):
Exterior Detailing
Wood front entry door from BC Door
The timeless styling of a made in BC product gives our new homes a unique look. The wood door allows for choice of colour and style not available in metal or fiberglass. Visit BC Door's website for more information.
Oversize garage door opening
All custom homes are built with an 8 foot high garage door rather than the standard 7 foot door. All doors come equipped with Liftmaster ½ hp belt drive motors and one exterior key pad.
Rear deck or patio included
All homes come with a rear deck or patio complete with natural gas BBQ connection.
Premium Textured Acrylic Stucco
All homes with stucco exterior finish include two scratch coats plus premium textured acrylic stucco available in a multitude of colors
*Note: The features described above are subject to change depending on site conditions.
Kitchen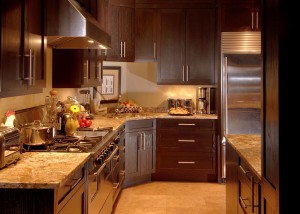 We understand the importance of cabinetry and counter tops in the kitchen and other areas of your new home. As a former 2005 finalist of the Georgie Awards (Best Kitchen over $30,000), Peter Schultze Construction works with the best kitchen and design suppliers to ensure all your cabinetry needs meet both functionality and design. Our cabinets are available in a wide variety of woods and colors and built to the highest standards in the industry.
Appliances
The best quality and latest fashions are yours when it comes to your kitchen appliances. All custom designed kitchen comes equipped with Frigidaire Classic Stainless Steel Series Fridge and Stove, a Panasonic combination microwave oven integrated hood fan providing ideal ventilation.
Flooring
Set the style of you new home with a wide selection of quality hardwood, ceramic tile and carpet for your floor. 1,000 square feet is included, more than available in most new homes.
Hardwood
Choose from Red or White Oak, Ash, Hickory, Brazilian Cherry, or American Cherry. Custom staining is also available upon request depending on the variety of wood
Ceramic
The ceramic tile comes in a wide variety of styles and colours. Our customers tell us they rarely have to upgrade in order to get the tile style they want.
Quality Carpet
Beauty and comfort are what you can expect throughout your new home, with either a 60 oz 100% Polyester Carpet or Olefin Berber Carpet in a choice of colours to match any taste. Even better is the luxurious feel and durability that comes with our standard specification that all carpeting be placed over a 19 lb. rubber underlay.
Bathrooms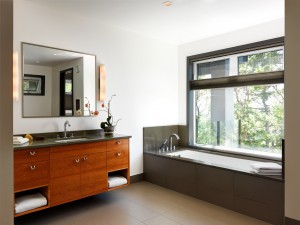 In a PSC home, faucets and fixtures are not after thoughts; we recognize how important they are to the style and luxurious feel of your home. You choose from 5 premium styles of Delta faucets in your bathrooms with shower heads, tub faucets and handles all to match your taste. The style of faucet you choose will be installed in every bathroom in your new home.
Full Height Fiberglass Shower
Your new home will include a full height fiberglass shower, complete with a 4×4 white tile backsplash.
Premium Bathroom Hardware
All bathrooms come equipped with high-end brushed chrome hardware. After all, it's the little details that count.
Dual Flush Toilet
To help conserve water and save money, we will install dual flush toilets throughout your custom home. This unique system allows you to choose to use less water for most flushing, while still having a more powerful flush when needed.
Interior Touches
9-foot high ceiling
At Peter Schultze Construction, a 9 foot high ceiling is considered a standard. This results in a spacious and well-lit living area.
Smooth ceiling
All new homes include the elegance of a smooth ceiling.
Round or square drywall corners
All homes include your choice of round or square drywall corners as a standard.
Up to 3 wall colours
Select up to 3 different paint colors and watch your new home come to life. Choose with confidence the finest selection of colours General Paint has to offer, a quality brand we trust.
Decora Plugs and Switches
They are everywhere in your new home, so we make sure they look good. All types of outlets including power, cable and phone as well as switches are covered with Decora fashion plates in your choice of 4 different colours.
Premium door hardware
All your interior doors are complimented with high end Wieser door hardware in brushed chrome. You choose from four luxurious styles from this quality brand name.
Mechanical and Electrical
Napoleon Gas Fireplace
Keep your living area warm and welcoming during those cold winters, with a gas fireplace from Napoleon. Set into a surround designed with choices by you, this direct vent fireplace adds heat and elegance, while providing you ensured quality and durability.
Trane High Efficiency Furnace
Your custom built home should be heated by the best, and Trane is perhaps the best known brand there is when it comes to heating. All PSC homes are equipped with a Trane XR90 as a standard with an optional Trane Heat Pump upgrade providing extra energy savings plus cooling capability in the summer.
Programmable Thermostat
All Homes come equipped with a programmable thermostat, a standard feature of ours to help you control your heating cost.
50 gallon hot water tank
All homes build by Peter Schultze Construction include a Bradford White power vented high efficiency gas hot water tank.
Central Vacuum Rough-In
Your home will automatically have the rough in for a central vacuum system ready for you to install your system. This includes the rough in for the handy floor level vacuum pan in the kitchen, a great feature to have as part of your system.
Structured Wiring Package
PSC goes to great lengths to insure that your new home is ready for as much communications you are looking to install. Our wiring package automatically includes 30 combined cable runs distributed to 7 locations for telephone, internet and TV2 cable runs to the attic for satellite. 6- Cat5E cables for telephone (terminated at telephone module) 6 -RG6 cables for TV (terminated at video module). Included is a 28 inch distribution panel 1×6 telecom module, 1×8 video module and appropriate port inserts.
Security System Rough-in
You will be ready to add a security system to protect your home with our standard security system rough-in. which includes wire drops to all exterior doors, 3 motion sensor locations, 2 keypad locations, 1 power source and 1 telephone connection.
Electrical panel location
All electrical panel locations shall be in the garage.
Interior Design Consultation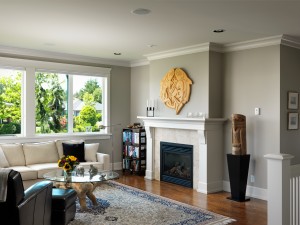 All new homes built by Peter Schultze Construction includes a four hour consultation with "Ryan Interiors", who just happen to be the same design firm that decorates all of our show homes.  From colour choices to materials and finishing, take advantage of the professional guidance available to help put it all together.
Ready for a consultation? We are Victoria's premiere custom home builders. Contact Peter Schultze Construction today.